Restaurant Rozcestí
RESTAURANT "NA ROZCESTÍ", Janov nad Nisou, the Jizera Mountains
The Guest House and Restaurant in the centre of the village of Janov nad Nisou, not far from the important ski resort of Bedřichov in the Jizera Mountains, offers year-round catering at sensible prices from morning till night (breakfast, lunch and dinner). In the summer barbeques, grilled sausages or roast suckling pigs can be arranged around the garden fireplace.
We are happy to arrange family celebrations, evening functions and other events, live music, disco, company events, banquets, weddings, etc.
Table football, the verandah and the outdoor grill (roast sucking pigs available upon prior request) and fireplace are all available to guests.
The Restaurant has a maximum capacity of 55.
The Restaurant is no smoking.
The Restaurant is open Monday – Sunday from 11:00 – 21:00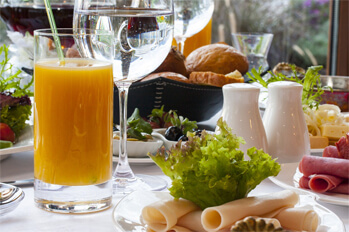 Breakfast is served between 0800 and 1000 in the form of a buffet. The price includes bread and rolls, salami and cheese, fresh fruit and vegetables, cornflakes, tea, coffee, fruit juice, etc.
Lunch. Between 1100 and 1400 lunch is served, mainly traditional Czech cuisine, with a choice of up to seven main courses and two soups.
Half Board (including breakfast and dinner) is served 0800 and 1000 and 1700 and 2100, with a choice of up to three main courses for dinner.